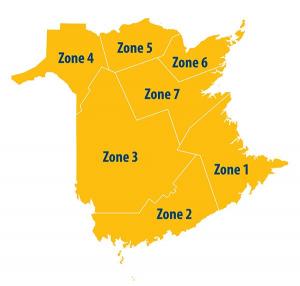 Links to official  COVID-19 information, including links to the official Proclamation and Mandatory Order, Travel Information and Documents, Frequently Asked Questions (FAQ), WorkSafe NB, and other links (bilingual links / liens bilingues).
---
REVISED:  July 31 :  Renewed and revised mandatory order issued on July 31 and effective 11:59 pm July 31:  by the Minister of Public Safety (bilingual / bilingue) in PDF format.
---

Current public health alert level
New Brunswick is currently moving to the Yellow level. During this time, Public Health measures and guidelines must still be followed.
---
For the latest information from the Chief Medical Officer of Health, visit the Government of New Brunswick special website on COVID-19   (English)  (français)
---
Travel Information - Renseignements pour les voyageurs
ENGLISH - Documents required for travel into NB -
FRANÇAIS - Documents exigés pour faire un voyage au Nouveau-Brunswick
---
Voici quelques liens utiles à partager :
Here are some useful links to share:
Organisation des Mesures d'Urgence du N.-B. : 
https://www2.gnb.ca/content/gnb/fr/ministeres/omu.html
New Brunswick Emergency Measures :  
https://www2.gnb.ca/content/gnb/en/departments/emo.html
Proclamation de l'État d'urgence (revisée) :
https://www2.gnb.ca/content/dam/gnb/Corporate/pdf/EmergencyUrgence19.pdf
Declaration of state of emergency(revised):
https://www2.gnb.ca/content/dam/gnb/Corporate/pdf/EmergencyUrgence19.pdf
Santé publique Canada: 
https://www.canada.ca/fr/sante-publique/services/maladies/maladie-coronavirus-covid-19.html
Public health Canada :   
https://www.canada.ca/en/public-health/services/diseases/coronavirus-disease-covid-19.html
Travail Sécuritaire NB:  
https://www.travailsecuritairenb.ca/
WorksafeNB :     
Org. Mondial de la Santé : 
https://www.who.int/fr/emergencies/diseases/novel-coronavirus-2019/advice-for-public/q-a-coronaviruses
World Health Organisation :    
Application pour suivre l'évolution du COVID-19 :
https://csrno.maps.arcgis.com/apps/opsdashboard/index.html#/2057ac18b4e04accbab626f4f5d8e936
Application to follow the evolution of coronavirus in Canada around the world: 
https://csrno.maps.arcgis.com/apps/opsdashboard/index.html#/2057ac18b4e04accbab626f4f5d8e936
FEMA: