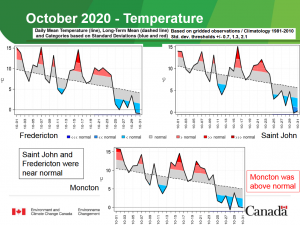 October temperatures were near normal  (-0.2 C) in comparison with the 30-year climate normal (1981-2010) for the province.  Precipitation in October was also near normal with 102 % of the 30-year climate normal despite being highly variable across the province. We finally recorded (just barely!) a month in 2020 with above normal precipitation.
Climate extreme for the month: Woodstock recorded 133 mm in the first 17 days of October (144 mm total for the entire month) whereas the total precipitation recorded for the four month period of June-July-August-September was only 125 mm.
See all the details in the attached final report for October and an outlook for November 2020.