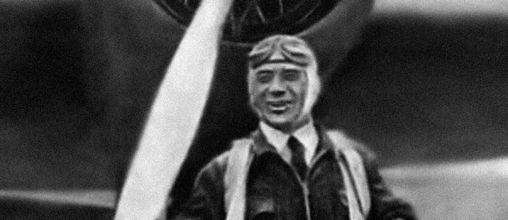 The New Brunswick division of the Canadian Aviation Historical Society will be hosting a commemorative ceremony on Miscou Island (IOTA NA-068) at the Miscou Island Lighthouse (ARLHS CAN-320) on June 19, 2014. The International Repeater Group will be operating from 1500UTC, June 19 for a minimum of 48 hours using CW and SSB on 80, 40, 20,15, and 10m.
Photo:  Soviet propaganda photo of Brig. Gen. Vladimir Kokkinaki, standing in front of one of the Moskva's engines.
Special Event - Commemorating the 75th anniversary of the flight from Moscow to the forced landing on Miscou Island, New Brunswick (http://fly.historicwings.com/2013/04/from-moscow-to-miscou/).
Schedule – Commencing at 1500UTC, Thursday June 19 for a minimum of 48 hours.
Location – Miscou Island Lighthouse is located at the most easterly tip of Miscou Island at N48 00.527 W64 29.557.
Facilities – The operating location is relatively remote. Setup will use the lighthouse to anchor antennas and the radios will be in a storeroom connected to the gift shop. Commercial food service is located 20Km away in the village of Miscou. Camping sites are available (http://www.campingmiscou.com/) and there is a building on the site that could accommodate air mattresses and sleeping bags. Washroom facilities are available.
Operators – All amateurs and significant others are welcome. If you're interested in operating from this commemorative event, lighthouse and island please contact - VE9GFD@rac.ca - (George) and indicate your availability.