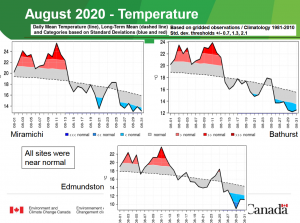 The first half of August was hot and very dry that transitioned to a second half which provided more near normal temperatures and two precipitation events near the end of the month that slightly improved our parched conditions.

For the month as a whole in terms of temperature, August was warmer (+0.7 C) than the 30-year climate normal (1981-2010) for the province. 

Precipitation in August continued to be on the dry side with only 53 % of the 30-year climate normal.  We have yet to see a month in 2020 with above normal precipitation and the last time this happened was December 2019.
See all the details in the attached final report for August and an outlook for September 2020 from Jill Maepea, Warning Preparedness Meteorologist / Client Service Operations Atlantic, Environment and Climate Change Canada / Government of Canada