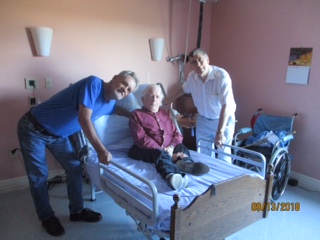 Thanks to some help from some local amateurs, long-time IRG member Keith Estey, VE1KRE is back on the air from his new home at the York Care Centre.  Keith is well known for his net control duties on the Miramichi Area VHF Net on the IRG on Wednesday nights.
With help of Scott Arnold VE1CSA and Al Thurber VE1RG, Keith has an antenna installed for his 2m radio so he can reach some local repeaters and keep in touch with friends on the air.  Give Keith a shout on the VE1BM or VE9FNB repeaters.
In the picture, left to right:  Scott Arnold VE1CSA, Keith Estey VE1KRE, and Al Thurber VE1RG.