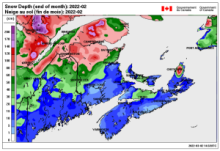 Latest update has been added - December 2022 Climate Summary and Outlook - found at bottom of links on this page.
Here you will find the "Atlantic Canada Climate Summary and Outlook" bulletins.  
Vous trouverez ci-joint les bulletins française  « Résumé et Perspectives climatiques du Canada atlantique »
... from Meteorological Service of Canada / Environment and Climate Change Canada / Government of Canada.