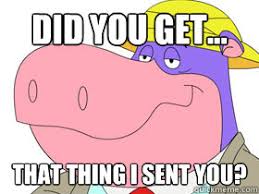 Did you get your e-mail from the IRG News on Friday afternoon, January 22?  If you did, that's great, it's our fastest way to get important news to all the members at once -- besides radio, of course!
If you DID NOT get the most recent IRG News, here are some reasons why:
You didn't provide an e-mail when you joined or renewed;
Your e-mail address has changed and we didn't know;
Your e-mail server sent it to junk mail folder;
You have changed your account to stop getting IRG News.
Your membership is long expired and we've taken you off the list.
You can update your e-mail right on the web site if you know your "username" and "password".  A link to update your e-mail will be sent to the e-mail we have for you, just go to this link and follow the directions.  But if you didn't get the Newsletter in the first place, it's likely you won't be able to use this method
To save yourself some work, first take a look at your Junk Mail folder if you have one, maybe your IRG News is going there.  You can fix that in your e-mail settings.
But, if you forgot your user name or password, and your e-mail has changed and no longer valid, we'll have to change your e-mail manually for you.  Send a message to the Web Administrator at the IRG Contact Form link.
By default, all members are set up to get Newsletters sent to the e-mail associated with their IRG account.  Go to "My account"  and make sure "IRG News" is listed in the "Manage Subscriptions" section.  While you are there, make sure all the other information is correct and up-to-date.  Thanks for your help!