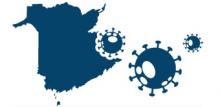 Households with positive cases required to self-isolate
FREDERICTON (GNB) – As of 6 p.m. on Friday, Nov. 19, everyone in a household anywhere in New Brunswick with a positive case of COVID-19, regardless of their vaccination status, must isolate for 14 days.
Household members who are fully vaccinated will be able to leave isolation with a day five negative PCR test. A day 10 PCR test must still be taken to confirm the negative result.
Also, on Friday at 6 p.m., circuit breaker measures will end in zones 1 (Moncton region) and 7 (Miramichi region).